The Tsunami Living Campaign is designed to provide a powerful opportunity for players in groups around the world to share in a related campaign experience connected through the auspices of a common setting and connected plot points. Our Living Campaign is designed around the new 5th Edition Dungeons & Dragons rule set, though we will make every attempt to make it accessible to groups who are interested in using alternative systems such as D&D 3.5, Pathfinder, and Savage Worlds.
With the release of 5E, we are ready to focus on a more communal play experience that embraces the whole of our community. Like many living campaigns, we will provide occasional core adventures to tie together the principle over-arching plot, but we also expect our community game masters to step up and help develop the adventures that will define your character's involvement in a world-spanning story that will tie us all to a shared setting.
Gnome Man Is An Island serves as our catalyst adventure. In this adventure, a group of shipwrecked heroes land in the midst of an ongoing conflict between warring factions affected by a malevolent and insidious power. The adventure isn't a necessary precursor to the campaign; it simply sets up an event that will trigger the major plot points of the campaign.
So Why Should I Get Involved?
In essence, a living campaign is a shared gaming experience, a world in which players experience the same adventure material in a common setting. In recent years, the trend has evolved into Organized Play scenarios in which players visit game stores and conventions and run their characters through the exact same story as everyone else.
We want the same sort of shared world experience, but the Prismatic Tsunami community is a little different. We have an advantage in that we don't need to service a community of thousands (as nice as that would be); we're focused on a cast of hundreds, at best. On the Metagamers Anonymous RPG podcast, our entire conversation is bent toward immersive and story-driven play. We should undeniably focus on the same elements in our very own living campaign.
The Tsunami Living Campaign Experience
So what can we offer you in a more focused living campaign? To begin with, beyond our introductory scenario, we have no intention of providing a slew of adventures for everyone to cycle their characters through. Our scenarios will be simpler fare, provided story arcs that affect the world at large. To our way of thinking, a living campaign should feel alive. To that end, we need your help.
With each season of the campaign, we will outline the principle plot developments in a world-spanning epic that can engage several parties in different geographic locations. GMs will have the opportunity to design their own scenarios to service their particular groups, incorporating certain common elements to tie it altogether.
Another advantage of this approach is that, in a manner very similar to the Tsunami City Project, we will have a unique opportunity to design our campaign world together. As you develop characters and adventures for your particular party, you will have a chance to fill in details of the campaign world: nations, environments, deities, cities, cultures, organizations, and so forth. We'll use our forum to collect material and record details of our adventures, followed by a section of the website with a hall of heroes and similar functions to support the campaign.
The Developing Campaign
With each issue of Tsunami Quarterly Review, we'll update the major plot points of the campaign. As GMs submit play reports or campaign journals detailing their parties' involvement in the unfolding events of the game, we'll adjust the story to incorporate their deeds and introduce new plot twists and story arcs.
Check back often for updates and additional material, and tune in to Metagamers Anonymous to hear about the latest developments and send in your own comments, questions, and ideas to discuss on the show.
2015-04-15 22:02:28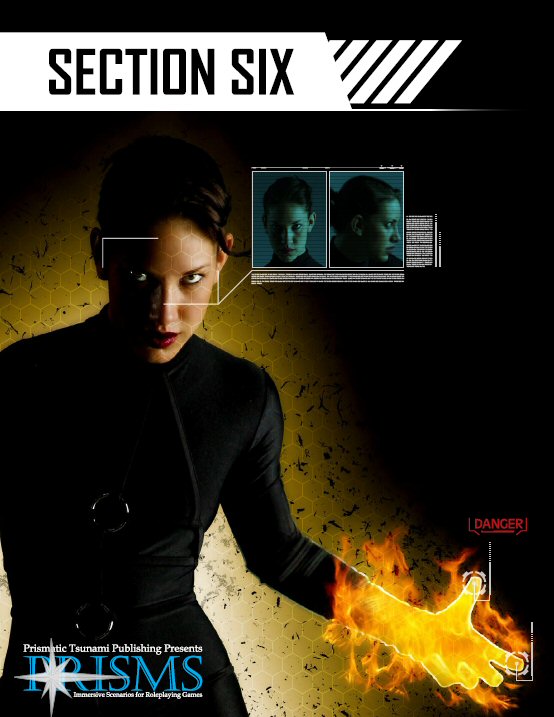 Our first issue of PRISMS is now available at DriveThruRPG!  It's a great way to show your support for the Prismatic Tsunami community and Metagamers Anonymous.  Share the link with your gamer friends!
PRISMS is our community's newest quarterly periodical, focusing on system-agnostic, one-shot scenarios perfect for convention play or a single evening of fun.  In our first issue of PRISMS, you will find the following adventure scenarios:
Section Six: A mind-bending psychic horror scenario in which the PCs attempt to escape from an underground government research facility, complete with soldiers ready to pick them off rather than permit them a moment of freedom.
3:10 To Argon City: A space western scenario featuring a train heist gone horribly wrong.  The PCs face off against the local marshall, a rival gang, and even a corrupt corporate big shot.
Shards of Malvoc: Three expansive adventure seeds for the Tsunami Living Campaign.  The PCs face off against a village of corrupted children, a violent gala for a fallen artist, or a misplaced goblin king.
Posted in:
Adventures
Living Campaign
PRISMS
Read more...
1 comment
---
2015-02-02 20:54:49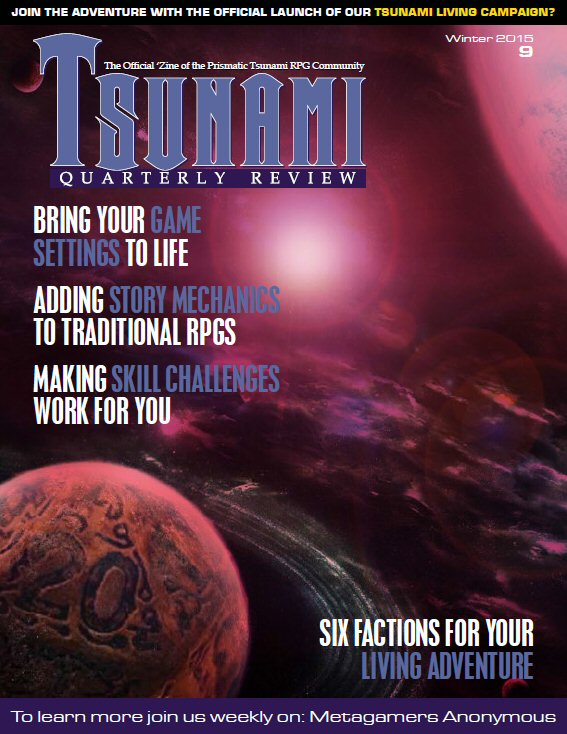 Our winter 2015 issue of TQR is now available at DriveThruRPG!  It's a great way to show your support for the Prismatic Tsunami community and Metagamers Anonymous.  Share the link with your gamer friends!
The magazine expands on the Tsunami's mission statement by offering gaming advice from community contributors and focusing on popular features from the podcast, particularly the Tsunami City Project.
In our beautifully reformatted and reimagined ninth issue of Tsunami Quarterly Review, you will find the following great features:
RPG Crucible: Outside the Box: Explore a creative approach to matching disparate backgrounds with your new character's current career path.
Coloring Between the Lines: The Radiating Gnome extracts the most graceful elements of 4E skill challenges and demonstrates how they can enhance game play in other systems.
Bringing New Life Into Your Game World: Tips and tricks for creating a living, breathing setting that your players can see evolving around them.
Tsunami Living Campaign: We launch our living campaign with information on the primary maguffin and the numerous factions which are hell-bent on possessing it. Join the quest for the Shards of Malvoc and become part of campaign history!
Patchouli and Sandalwood: JiB discusses some basic mechanics from some of the most prominent rules-light systems and how they can be used in traditional games.
The Mortlock, Pt 2: Jonikka Frazier continues the grim story of Sharia Mortlock in the time before the events of the Obsidian Crown Actual Play adventure.
Help support the Prismatic Tsunami community and the popular Metagamers Anonymous RPG podcast!
Posted in:
Living Campaign
Tsunami Quarterly
Read more...
0 comments
---
2015-01-20 11:14:42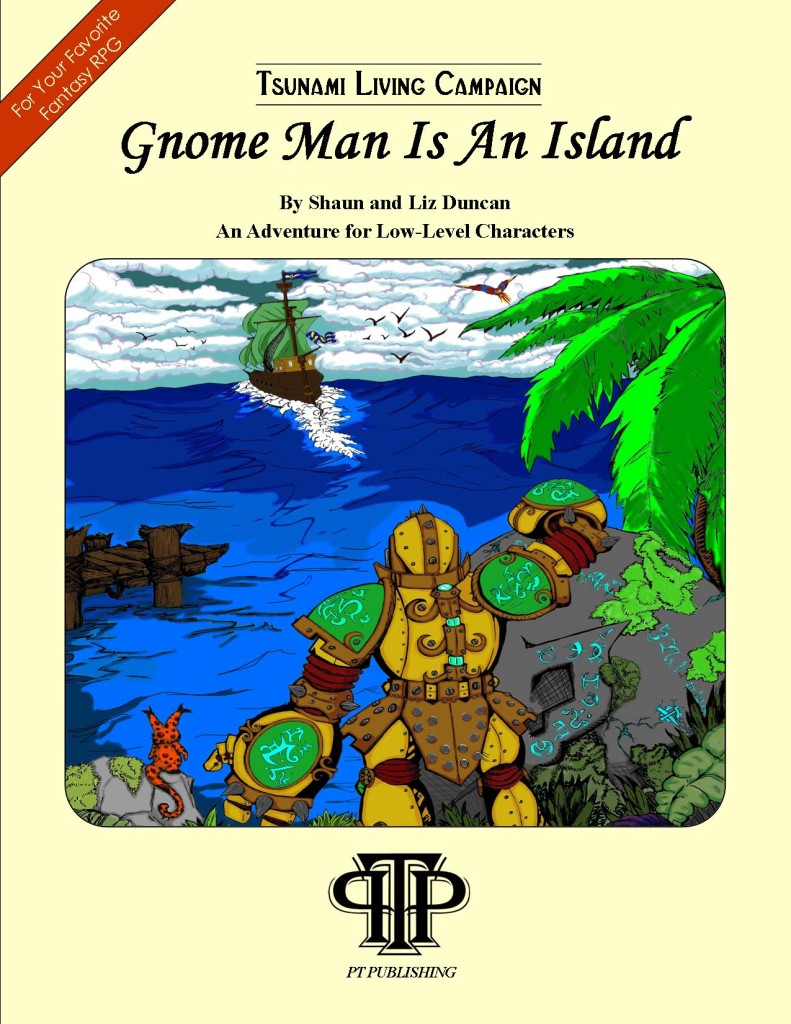 Explore the catalyst adventure scenario for the Tsunami Living Campaign. Gnome Man Is An Island is a low-level fantasy adventure scenario intended to be played in a single session, introducing plot elements and themes that will provide the underpinning for the living campaign primary storyline.
Play the role of one of a small group of heroes stranded on a tropical island occupied by power-mad gnomes with a mysterious vendetta. Be part of the campaign's history and see how it all began…
Gnome Man Is An Island is now available on DriveThru RPG, and you can pay what you want!  Your contribution helps support the Prismatic Tsunami community.
Associated Files:
Gnome Man Is An Island 5e npcsmonsters
Posted in:
Adventures
Living Campaign
Read more...
0 comments
---