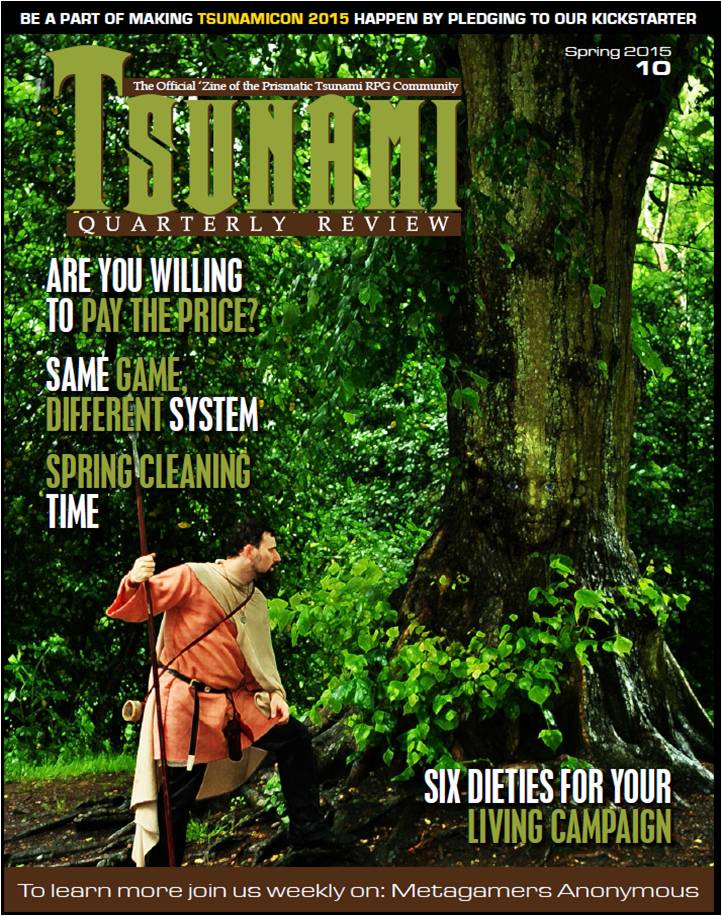 Our spring 2015 issue of TQR is now available at DriveThruRPG!  It's a great way to show your support for the Prismatic Tsunami community and Metagamers Anonymous.  Share the link with your gamer friends!
The magazine expands on the Tsunami's mission statement by offering gaming advice from community contributors and focusing on popular features from the podcast, particularly the Tsunami Living Campaign.
In our tenth issue of Tsunami Quarterly Review, you will find the following great features:
RPG Crucible: Chasing the Dragon: Explore characterization through vice as a roleplaying tool.
Will You Pay the Price?: The Radiating Gnome continues his exploration of 4E skill challenges with a custom toolset for developing exciting noncombat scenarios.
Changing the Ride: JiB explores the fine art of revisiting old adventures with different game systems.
Patrons of the Heavens: This issue's article for the Tsunami Living Campaign provides a pantheon of deities tied to events in the world and available for GMs to use as they see fit.
The Mortlock, Pt 3: Jonikka Frazier presents another chapter in the story of Sharia Mortlock in the time before the events of the Obsidian Crown Actual Play adventure.
Help support the Prismatic Tsunami community and the popular Metagamers Anonymous RPG podcast!